Case Study: Jon's Journey With E4 Diabetes Solutions Part-1
Jon McMahon's journey getting started with the E4 Diabetes Solutions ALIVE program.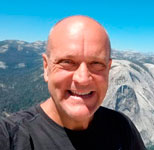 Jon McMahon's Case Study Videos
Jon's Story – Part 2
Jon McMahon – His journey with E4 Diabetes Solutions – Follow Up Labs, In-depth analysis, insulin resistance, pancreas strength.
​Jon's Story Part 4 – From severe neuropathy and out of control diabetes to optimal blood sugar levels! What does optimal look like?
John Vargas Eddy
DIRECTOR DIABETES PROGRAMS
E4 Diabetes Solutions
​Author, medical researcher,
complex systems expert and
Director of Diabetes Programs.
During the video we will be covering:

Goals and Challenges
E4 Diabetes Solutions Team
A.L.I.V.E. Program components
Jon's insulin resistance
Jon's Pancreas strength
Ways in which E4 Diabetes Solutions can support you
Answers to your questions